E20/20B Network (6021-5053)
Time Domain Reflectometer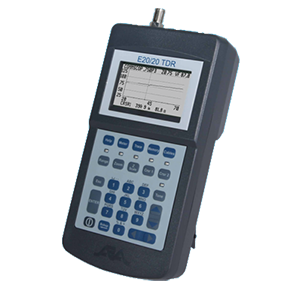 Fault locating for: opens , shorts, bridged taps, split and resplit pairs, water, chaffing damage, coax crimps and splices, shunt faults, series resistive faults, splitters. Any impedance ro loop resistance affecting fault.
Micro Fault locating: Two modes designed to pin-point small faults easy to miss on any full TDR trace. Particularly on long coax cables.
Stores: 32 Traces and instrument setups. 64 Cable types with their impedance and velocity.
Help: Both a Setup Wizard for step-by-step guided startups and one-button context sensitive help for all menues and functions. The E20/20 Step TDR is guaranteed to save time and money by quickly and accurately locating even small cable faults and by not chasing cable faults that don't exist.
Part Number: 6021-5053
Connector: BNC & RJ45.
Cable List: VDV/RF, RJ45-to-Telco clips and BNC-to-Alligator clips test lead
Included items: Soft Equipment case, Belt case, AC adapter, Vehicle charger, USB cable,RJ45-to-Telco Clips (2 pair) Test Leads, BNC-to-Alligator
Clips Test Lead, basic guide and quick start guide.