MFJ-836, RF IN-LINE CURRENT/SWR/WATTMETER, 1-30MHz, 3A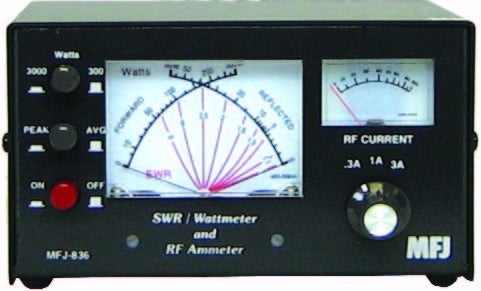 The MFJ-836, is an all-in-one RF Ammeter/SWR/Wattmeter! You can quickly determine feedpoint impedance and monitor antenna system for detrimental changes under power.
Read RF current in three calibrated ranges -- 0.3, 1, 3 Amperes. A large 3-inch lighted easy-to-read Cross-Needle meter lets you read SWR, forward (300/3000W) and reflected power (60/600W) simultaneously.
MFJs exclusive TrueActiveTM circuit gives you true peak or average power readings. SO-239 connectors. Use 9 Volt battery and/or 12 VDC or 110 VAC with MFJ-1312D, $14.95. 6W x 3½H x 4½D inches.