DJ-MD40 UHF Portable Transceiver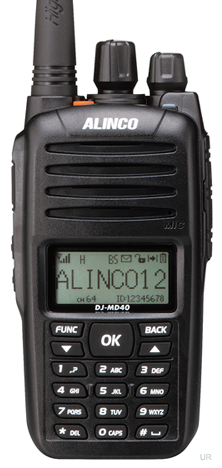 The Alinco DJ-MD40T a commercial UHF HT covering 400-480 MHz. It supports operation in traditional analog FM mode as well as DMR digital mode. Output power may be selected at: 5, 2.5, 1 or 0.2 watts. This high capacity radio supports 1000 channels, 250 zones with 64 channels per zone. And the sound quality is great due to digital error-correction technology that rejects noise and static. It provides consistent audio quality throughout the coverage area, even in challenging low-lying areas. It utilizes DVSI's AMBE+2 vocoder that further improves speech communication. All this combined with 1 watt audio output and a 40mm diameter powerful speaker, ensure louder and crisper voice communication. The rugged design meets IP54 dust and splash-proof standards.
Each DJ-MD40T includes: EBP-96 Li-Ion Battery Pack (7.4 V 2600mAh), EDC-211 Drop-In Charger stand, EDC-213 120 VAC Adapter, EA-212 SMA Antenna, EBC-45 Belt clip, hand strap and manual. Requires ERW-13 for programming (sold separately).
The Alinco DJ-MD40T is a CE and FCC certified business radio that requires a commercial license to operate.
Features
FM & Digital DMR Tier I and II

1000 Memories

Four RF Levels (5/2.5/1/0.2 W)

IP54 Dust and Splash-proof

VFO/Memory Modes

Text Messages

Color Selectable Backlit Display

VOX